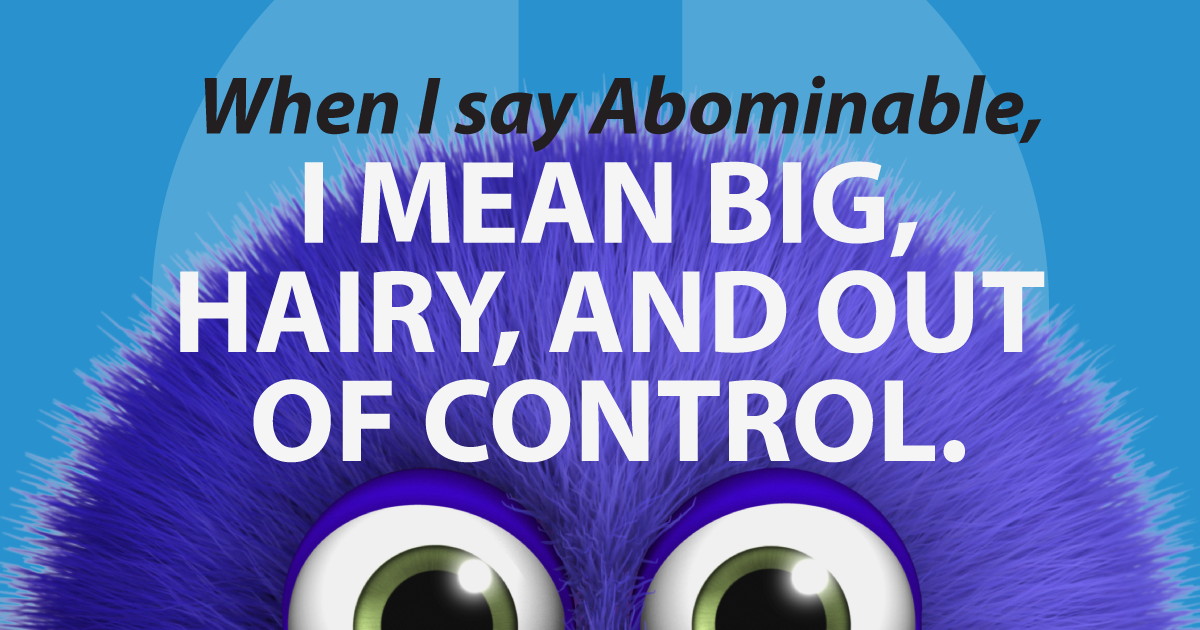 How to keep those winter Marketing Monsters from getting ABOMINABLE
During the winter months, it gets really easy to let things slide as you plan for warmer weather. Unfortunately, those Marketing Monsters aren't waiting until spring comes to cause you problems. In fact, winter is usually when those problem monsters become Abominable.
When I say Abominable, I mean big, hairy, and out of control.
While it's tempting to get cozy and comfortable and forget about your Marketing Monsters for a while, unfortunately, that's how they get so frighteningly big. So, here are four things you can start doing now to keep everything from your campaigns to your website from getting ugly and scaring away your members.
1. An ounce of prevention.
Once your CU marketing department has a Marketing Monster, it's going to settle in and get comfortable. And then it's going to grow and grow. And grow some more, if you let it sit there and you do nothing about it. That's when things get Abominable.
So whether you've got a Wimpy Website Monster or something else, the key thing to remember is that Monster is going to get worse the longer you ignore it.
Another uncomfortable truth is that most of these problem monsters require regular, consistent attention to keep them cooperative. If you can start systematically giving your Marketing Monsters the time and attention they need, you'll save yourself a lot of monster headaches.
2. Get cozy with social media
There's some good news, too! There's quite a lot you can do while you're staying warm and dry. In fact, winter is a great time to build a community while people are at home and on social media.
If you're building your online presence, make sure you're feeding your Social Media Monster lots of wholesome, healthy, and nutritious content. This gives your followers something to react to and enjoy, and keeps your social media presence fit and functional. Too much of the quick, unhealthy social media junk food, however, and you'll have a cranky, bloated following full of complaints and stale memes.
If you've already got a lot of followers, then you're in a great spot for some community building and the occasional, tasteful ad campaign. Don't spam your followers with cheaply made ads, and don't forget you need to be listening and interacting about as much as you're posting.
3. Get creative with what you've got
For a lot of CU marketers, it's chaotic to try to keep things fresh while promoting the right product at the right time. What I'm saying is, you might have a Static Strategy Monster, keeping you from trying new things and seeing what works.
But you should remember that you don't have to reinvent the wheel, especially if you already have a perfectly good one you can use.
One way to do this is to rename or relabel an existing campaign. For example, we know personal loans can be used for just about anything, but do your members actually realize that? A lot of CUs have been creative with this recently. After all, why not offer an "E-Bike" loan, or a "Peloton" loan?
If your auto loan numbers are down, it's worth a try to promote auto loan refinancing. And why couldn't a CU offer a "keep-it-running" loan for members with old junkers?
Just don't forget that there are some messages that matter more than your newest rates.
4. Commit to creative quality
Marketing Monsters are a "garbage in, member-scaring-away, headache-inducing, garbage out" situation.
So don't be mislead by those "it's not that big of a problem" and "we'll deal with it later" platitudes that other people may offer when they just don't want to deal with a problem right now.
Remember, you want to deal with these monsters before they get Abominable.
Winter could be just the time you need to get your strategy and campaigns up to the high-performing, top quality standard of your marketing dreams. But that also means you're going to have to give your marketing the time and attention it so richly deserves.
And don't forget, you don't have to do it alone.
Latest posts by Sam Dicken
(see all)